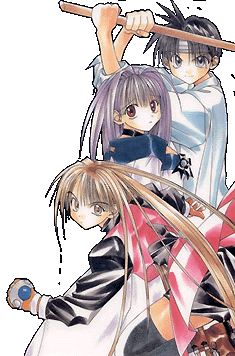 WELCOME
Welcome to my Tokyo-Underground page! I couldn't resist making a page for this series. I fell in love with it with the first volume I purchased at random :) The artwork is so cute, and the characters are very entertaining. Tokyo Underground is a manga by Akinobu URAKU, and is published by Enix. It's a shounen series, so there is a lot of action.
I hope that this little page will do a good job of introducing people to the series, and will encourage people to go out and buy the manga! There is also an anime version of Tokyo-Underground in the making, so hopefully this series will become more popular soon!
This page should be fairly simple to navigate, just go through the navigation bar at the top. Any updates or changes I make to this site will be mentioned here on this front page.
If you enjoyed this page, or have any quesions about the manga, please email me or, better yet, sign my guestbook. Thanks for visiting!